Salesperson Development
Is it really possible to build a truly World Class Sales Team?
In this 4 part series we will answer that question and define what it takes to build a World Class Sales Team!
You may want to read Part I-III before you continue?
Finally we get to where the rubber meets the road… the salesperson's attitudes, behaviors, skills, strengths, weaknesses, challenges, and hidden weaknesses that neutralize their strengths.  Of course we could go on for days, but we'll do our best to keep it short and sweet focusing on the major differentiators.
Most would agree that the following skills are necessary to have in place to approach World-Class capabilities.
Hunter Skills – the ability to find new business opportunities.
Selling Skills – Questioning and Listening Skills
Presenting – to whom and when in the sales process.
Closing – getting commitments starts at the beginning so we must include Sales Posturing – being the trusted advisor in the first moments of the encounter.
See the Chart below to define how they all orchestrate together.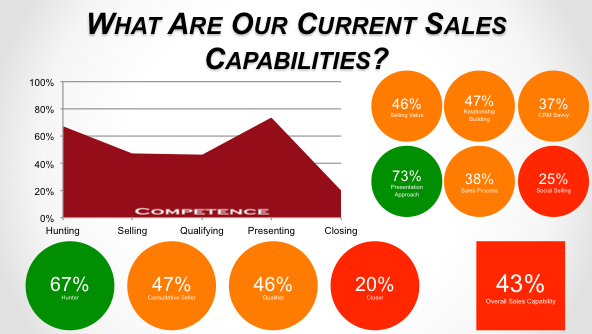 Check out this statistics tool to find out your teams Current Capabilities.
The next big differentiators are what we call Hidden or Invisible Weaknesses that Neutralize the strengths.  We also refer to this as Salesperson DNA.  It's DNA because these factors are internal and part of the natural make up of the individual.
There are 5 specific factors that will prevent and individual from being effective.  If you'd like a detailed explanation of any or all of the factors click here.
Buy Cycle – Personal purchase habits transcend expectations
Emotional Involvement – Staying in the moment
Need for Approval – Wearing happy ears
Supportive Beliefs – what you think most manifest itself
Money Weaknesses – selling on price
Check out this statistics tool to find out your teams DNA Factors.
One of the most critical set of World-Class success factors is what we identify as Will to Sell.  If you'd like a detailed explanation of any or all of the factors click here.
The Will To Sell is made up of:
Commitment – doing whatever it takes as long as it is moral and ethical
Desire – passion for success in sales
Outlook – How you feel about yourself, your business, and your market.
Motivation – are you motivated enough and how: Intrinsic /Extrinsic
Responsibility – the opposite is making excuses for lack of results
In summary, the fish rises from the head up or rots form the head down! Building a WORLD-CLASS sales team is possible but it's not easy.
First: make the commitment to be World-Class.
Second: get your Leadership aligned.
Third: make sure your systems and processes support high-performance.
Fourth: focus your sales managers on the 4 fundamental activities.
Fifth: train your salespeople on the Will to Sell, fix their DNA, and develop their Sales Capabilities.
To download a White Paper about Sales Force Analysis click here.
#GoodSelling