My daughter was in for two weeks for a family reunion. Always great to spend time with family when you can right? After all is done it's the love you share and spread that counts. I was ecstatic when she asked me if I would teach her to weld. Bingo! "I have just the project." See the final product in the pic below.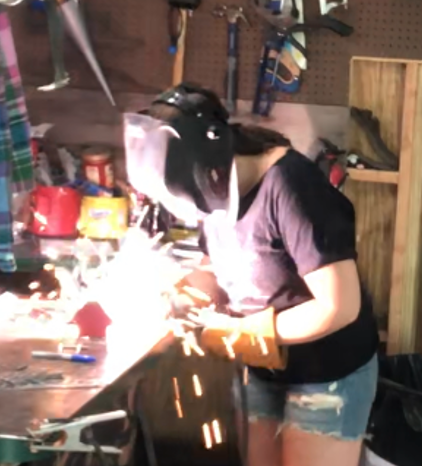 Safety 3rd right? No just kidding. Obviously, there is some instruction, then practice, then more instruction, then practice, then fine tuning, then practice, then more minor adjustments then practice. After selling and delivering sales development for over 30 years I've developed a knack for helping people learn what they don't know they don't know then turning them into high performing experts in a short amount of time.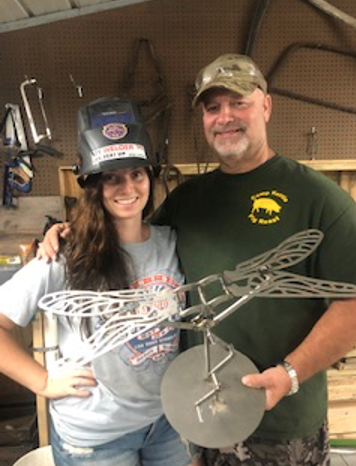 Teaching is easy for me. But what does it take on the learner's part?
Desire to learn and be better.
Commitment to go through a learning curve filled with failure.
Taking Responsibility to own your own mistakes.
Motivation to push yourself through the valleys of progress.
A strong Outlook – How you fell about yourself dictates all outcomes.
With the above Will to Sell factors anything can be taught. If the learner is missing any of the above there will be resistance to growth. This is why over 50% of the investment companies make on training and development is a waste! And this is why we use OMG and their powerful sales specific analysis before we ever step into a training conversation. We call this Will to Sell. Most people in sales can sell, but Will they? And what is it going to take to get to the next level. If you don't know where you are starting from you don't know where to go.
Check out the two charts below: The Chart on the left is data form the top 10% of the 2.2 Million salespeople evaluated. The chart on the right is data from the average or middle 60% of salespeople evaluated.
Wanna find out if your team has the grit it takes to learn to be more successful? Free Analysis No catch, no hooks, no exceptions. We'll let your team take this powerful evaluation and provide you with a summary of our findings. Just click here to get started.