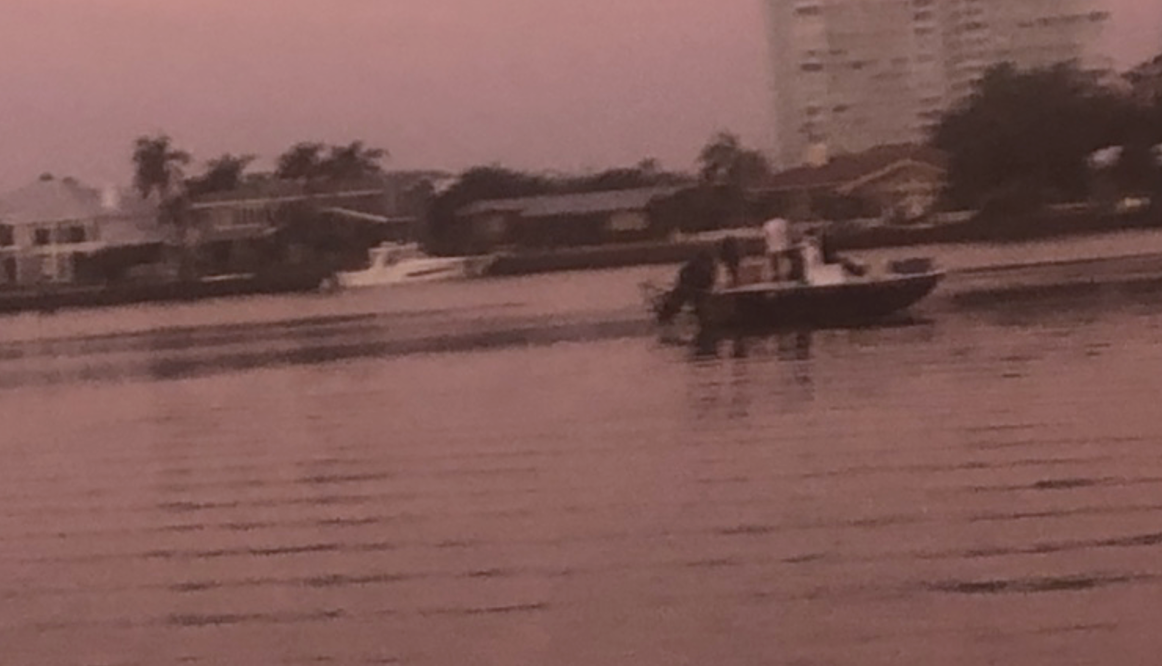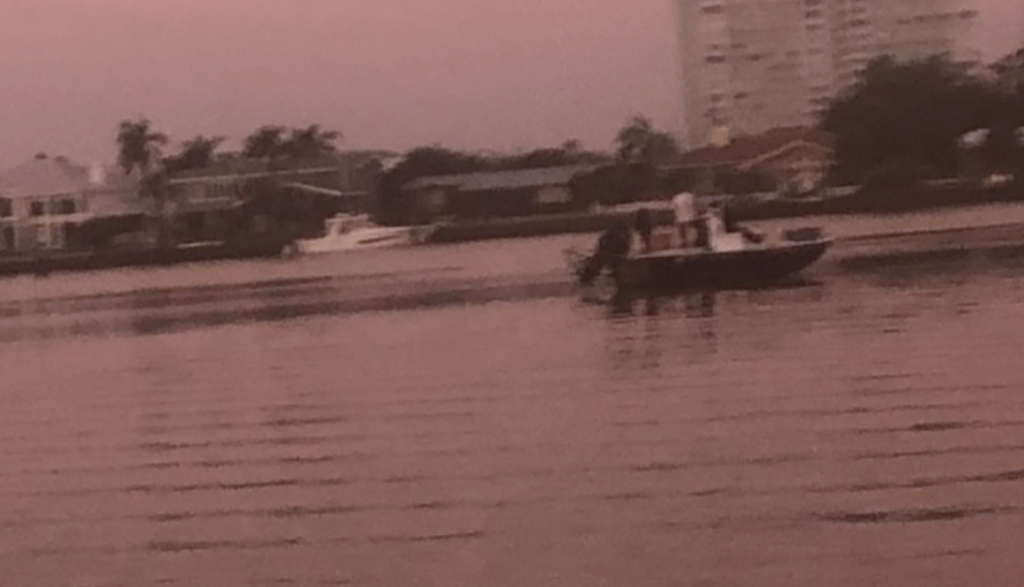 Allow me to explain. To the layman this looks like a boat fishing in the beautiful and rich waters of the St. Joseph Sound from years past. Actually, it is a boat and crew that have run aground in low tide about 6:30 am the Friday morning after Turkey Day. The bronze hue is the sun peaking over the horizon. There could be a few reasons why this fishing day was ruined.  Maybe the captain didn't read the tide chart? Maybe the chart plotter on the GPS was off a few degrees? Maybe the captain thought they could skim across the flat? Possibly the captain got confused with nautical signs – Right on red return! Keep the red poles to the right returning to port. It can get confusing inshore with channel markers often switching sides, red to green and green to red.
No matter the reason, they are going to be there a while! Like 3-4 hours while! Hope they have some nice juicy fat turkey sandwiches and lots of fluids. Here in South Florida the tide moves about 1-3' per day depending on the phase of the moon. Low tide -1 foot to + 2' can take long slow do-nothing painful hours. Tide levels can be the difference between taking short cuts and going the long way. But when a short cut cost a massive delay it's never worth it. Just ask this crew in the pic.
My guess…all serious in-shore fishermen/fisherwomen have all been stuck like this – 'once'. Just like all businesses can get stuck from time to time. Sometimes it's the uncertainty of the economy like now. Others it's a new competitive landscape. Sometimes it's compliance and new laws or regulations. We most often see complacency and mediocrity as the cause of being stuck.
Just like fishing, being stuck in business with slowing sales, lack of new business, loss of major accounts, budget freezes, change of vendors, weak pipelines happen, but it's always preventable with the right data science.
Today's technology has overtaken the fishing world like just about everything else. There's the incredible GPS, chart plotting with underwater topography, satellite imagery, radar, and other technology that is smarter than a 5th grader. This data gives the captain a wealth of data to prevent getting stuck in the first place.
So, what is the data a business leader needs to prevent slowing sales, lack of new business, loss of major accounts, budget freezes, change of vendors, weak pipelines, price pressure and longer sales cycles, which translates to P& L problems? I've never met a President, CEO, EVP of sales that didn't want to know the answers to these critical business questions about their sales organization.
From now until Jan. 1st we will answer these questions for you for free. That's right, you can go into 2023 with sales data science and never have to be stuck in sales again. Just click here and follow the prompts on the screen. You can use the sales chart plotter and sales GPS to guide your way to a bountiful year.  Or maybe you'd prefer to fix yourself a dry turkey sandwich and eat what's left over from your completion?