Say hello to Zena! She'd normally say hi back, but she is focused. She's a Nanuk. A cross between a Huskey and a Malamute. But she's been bred down to toy size. She'll never get bigger than about 15lbs.  She's a 75lb dog in a 15 lb. body. This is her new obsession and behavior based on her recent success. She sits in the backyard for hours upon end in full focus and in attention to the slightest sound, movement, or chirp from the numerous chipmunks prowling the edges.  She caught her first chipmunk last Friday! Now that is all she wants to do. Hunt, Hunt, Hunt! (Yes, I got it from her and released it back into the suburban wild.) What can we learn from Zena's new obsession?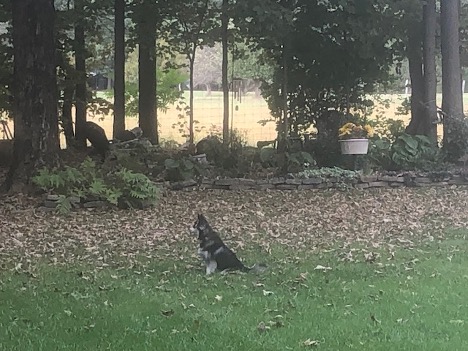 The biggest complaint we hear about salespeople is they don't listen! Can you block it out the noise and mental distractions and focus like Zena? Here are a few questions for those in sales. Do you listen to observe? Do you listen to understand? Do you listen to be able to share? Do you 'Stay in the Moment' with your prospects? Do you listen to hear beyond the words? Do you listen to know what questions to ask that will drive the outcomes you desire?
Listening is a subset of Consultative Selling. Consultative Selling is one of those things Salespeople, Sales Managers, and Sales Leaders like to claim is something they have mastered. But rarely do I see it in action when role playing and leading our development workshops. And the Science doesn't lie. Here is what OMG's data on 2.2MM sales evaluations tell us about consultative selling skills.  
The first chart is the average score of good salespeople. The second chart is based on the top 10% of salespeople.
Average salesperson – 41% Consultative Selling Skills:


Top 10% of salespersons – 62% Consultative Selling Skills:


How does your sales team stack up with the other competencies identified? Find out here with our Free Analysis: https://stats.objectivemanagement.com/41website