Quote General Patton – "Fixed Fortifications are a monument to the stupidity of man."

Sales Leadership is absolutely key in building world class sales teams. Especially in crisis mode. It's critical to know the strengths and weaknesses of your sales leaders in the following skills and more importantly you should know what is their go to mode under pressure and at a crossroads in a crisis. In other words what skill set do they rely on to get the company and the team through a crisis.

The chart below shows many findings. I'll unpack it for you below: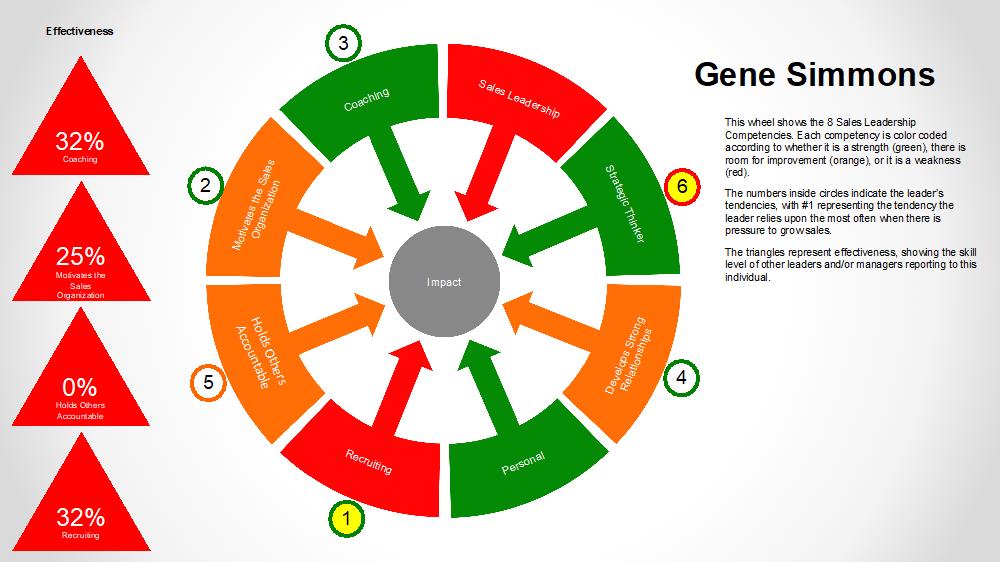 This wheel shows the 8 Sales Leadership Competencies. Each competency is color coded according to whether it is a strength (green), there is room for improvement (orange), or it is a weakness (red).

The numbers inside the circles indicate the leader's tendencies, with #1 representing the tendency the leader relies upon the most often when there is pressure to grow sales.
The triangles represent effectiveness, showing the skill level of other leaders and/or managers reporting to this individual.

Look at the finding at the seven o'clock position. The circle is 1 which tells us this is the go to mode and the skill relied upon. Recruiting is red which means the sales leaders skill is weak here. While the go to mode may not be a bad, the fact that this is a weak competency tells us there will be no impact and the problem will not be solved using this skill.

What else do you see in the chart above? Would this kind of information help you gain insights and focus on the areas to grow through a crisis?