As a novice forger, please don't judge too harshly. The pics below are of my latest project. The purple handle is from what I call – the Lesson Bucket. Indeed, we are no more born to forge than to sell. We have significant influences early in life that subconsciously drive us to specific career paths, hobbies, likes, and dislikes.
My dad was a super-skilled welder and the general manager of a large organization that produced railroad tank cars, gas separators, and heavy-duty stuff. He started sweeping the floor there at 17. Then he learned how to weld and then how to lead a small area of the mfg floor. Then he took on more and more responsibility and worked his way to the top of the manufacturing plant within 15 years. If I remember correctly, there were about 1500 men and women that he was responsible for.
Of course, he always had a project or ten on the side. I was the gopher for countless BBQ pits, outdoor furniture, and even a 20×18 pontoon boat made from scratch. After about 16, I was more interested in football and girls. However, the love of my dad's projects came back to me about 4 years ago. My daughter (a consummate artist; check out www.marlilagrone.com ) wanted me to take a welding class with her for a new art medium. Of course, I would not say no to that. What a great release, great self-therapy, and escape from the pressures and stresses of life.  That welding class sparked (no pun intended) a new hobby. I built a 20×20 shop out back 4 years ago.  The similarities between forging a knife and forging a salesperson, manager, team, and organization are very closely aligned.
Back to my latest project. The purple handle knife in the pic came from the Lesson Bucket. I call it that because that is where the pieces go when I've learned what not to do. Like sales – learning what not to do is sometimes more important and valuable than learning what to do. I pulled the purple-handled knife out of the Lesson Bucket and said, Huh? This can be re-purposed. The smaller knife in the pick is the re-purposed piece.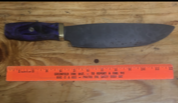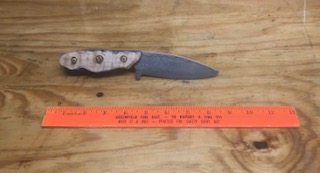 There is a process for forging a knife, and just like sales, the fundamentals are the same, and the individual creativity to apply those fundaments makes it art. That is also what makes for great sales. You first have to have an end in mind. Next, you must have the material with the right properties to generate the potential.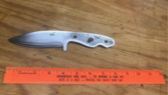 For sales, we call this Will to Sell. Next, you must know the makeup of the metallurgy and the properties of the piece you are starting with. You can't make a sword from a piece of metal the size of a nickel. But you can use nickel in forging a sword. This is what we call Sales DNA. These factors determine the unforgiving hidden and invisible weaknesses or shall we say blind spots, between the ears of the salesperson, sales manager, and sales leader. These factors cause long sales cycles, unreliable forecasts, poor win rates, selling on price, and not enough new business. After all this is determined; there must be skills and processes to drive the desired outcome.  And while trial and error are ok for hobbies, it is not ok for sales.
What potential does your team have?
Can they reach it in the current environment?
What is the expected outcome if they do reach it?
What skills are missing compared to world-class?
Did you start with the right raw materials?
Do you have the right salespeople in the right roles?
Is the sales manager (the person with the hammer, anvil, and forge) capable of growing the team to world-class?
Answer all of these questions and more by clicking here: http://stats.objectivemanagement.com/41 
If you are not certain how to identify the makeup of the material and you want help with selection for expanding your headcount, click here: https://info.objectivemanagement.com/ExpressScreenTrial.aspx?DistNum=41
If you have feedback on the Lesson Bucket project, I'd love to hear it. Stay tuned for pics of the completed project.