Labor Day, particularly Sept. 1st, marks 32 years of marriage! At our anniversary dinner my bride and I were discussing the highs and lows of 36 years as a couple to the date. (Our first date was on Sept. 1 and I thought it was fitting to get married on Labor Day as marriage is a lot of work.)
She told me, I can't believe you stuck with me all these years. The early days were a blur. After being told her whole life she would never have kids and the fact that I married her knowing that was a big deal for her. But hey, you can't pick who you love right? I just figured the good Lord had a better plan and I was willing to follow it. Even though I secretly imagined when growing up I would be a father someday. Anyway, a couple months after our honeymoon – boomshakalaka!!! She was pregnant with our first. Instant family! 13 months later we were blessed with another daughter! I guess the Dr's never met a LaGrone! Ha! As you might imagine it was a shock to us, our planned lifestyle and the direction of our life. We moved across the country to raise kids in a more wholesome environment. She was referring to the stress, the challenges, and the emotional roller coaster of two kids under two in a new environment.
I too expressed my unconditional love to my wife. While I stood by her, she also stood by me. I failed at several businesses in the first 5 years. I got involved with business owners with what seemed like great people that turned out to be outright crooks. We lost everything 3 times. I worked like a dog day and night and we made it 36 years together and still going strong. She supported me through it all.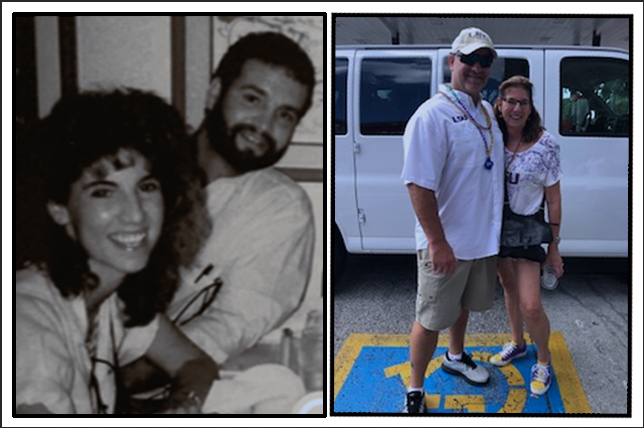 Our commitment to our marriage and our love, with the grace of God, is how we made it so far! LOL. When people ask how do you make it 36 faithful and loving years together, we respond with: Love, Mutual Respect, Understanding, Patience and always putting the other one first!
This is no different than sales! Love, mutual respect, understanding, and patience is a pre-requisite to success in sales. You must love what you do. You must give and earn mutual respect. You must seek to understand, and you must have patience. All of this adds up to Commitment.
Commitment to do whatever it takes as long as it is moral and ethical is the single most important factor is sales success. Without this there is resistance to change and lack of growth. Lack of commitment causes salespeople to bail in tough situations. They accept stalls and put offs. They allow the prospect who desperately needs the products and services offered to sell the salesperson on their excuses. Lack of commitment causes the salesperson to grow stagnate. It creates mediocrity and becomes an unseen disease in the sales organization. Even the top performers can often have a lack of commitment. Yes, we see it all the time in our Sales Force Analysis. Based on OMG's database of 2.2+ million, the top 10% of sales performers outweigh the average salespersons Commitment finding by almost 20% and the weak salespeople by almost 40%. See the below Commitment Scores.
Top 10% of salespeople – 76% Average – 58% Weak – 39%
Of course, there are many other factors that make a marriage successful and there are 20 other competencies that make salespeople successful. Click here http://stats.objectivemanagement.com/41 if you want to take a look at your team! But one thing is certain in both – lack of commitment means failure!
(The real secret is a country song by Brad Paisley – 'Love Her Like She's Leaving')