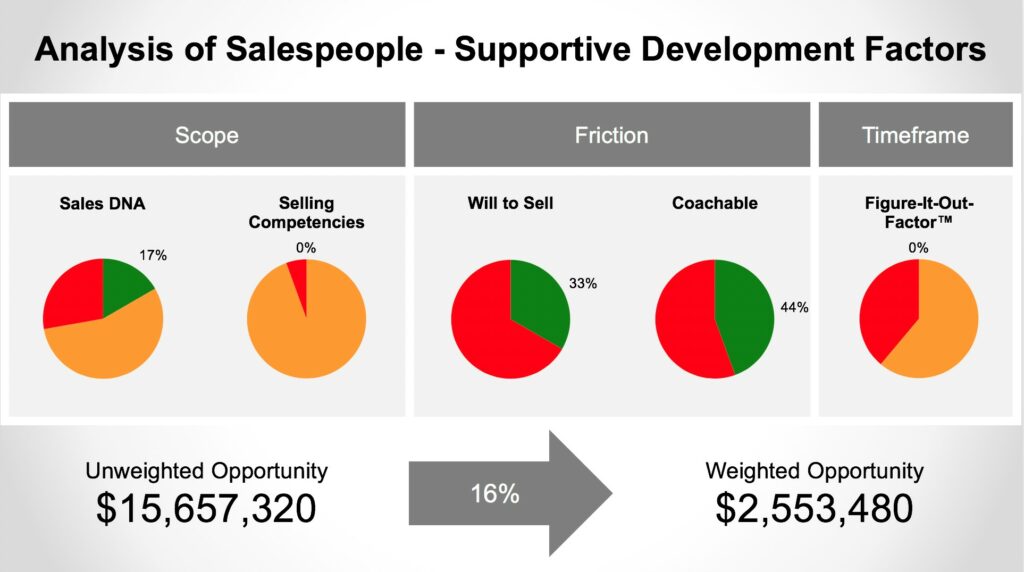 Skill gaps in Selling Competencies are not as easy to define as looking at sales revenue and metrics. We have to dig a lot deeper with situational analysis. You need to know: Not what can they do but, what Will they do in selling situations?
The Sales DNA is driven by the values and beliefs at a much deeper level. Everything we do is driven by beliefs and values. We identify six independent DNA factors that drive the salespersons thinking and accurately predict how they will perform under pressure when the prospect objects, stalls, pushes back, and lead on your salesperson to get more free information.
The Will to Sell is key to making change. These 5 factors determine how much resistance the individual will be when making changes, learning and growing. With Sales Development change is necessary. In order to get something we've never had we must do something we've never done! Change is hard! Change takes time and effort with the right reinforcement, coaching, and accountability. Resistance to change is the opposite of Will to Sell.
Then of course in order to define ROI we need to have timeline expectations. This is driven by how quickly the salesperson, sales manager, and sales leaders can take new information and put it to use in the real world. We call this the Figure It Out Factor. The lower the figure it out factor the more frequency of training and coaching is necessary for change. And they greater the need to practice with role plays and practical application. The higher the figure it out factor the easier it is to teach concepts
The real trick is to get those with limited potential due to low Will to Sell to break through their own ceilings. When we do that it is pure magic and growth accelerates both personally and professionally.
Click here to schedule a 1 hour consultation.
Click here to compare your team to your peers.